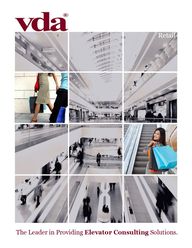 Return to flip book view
VDA - Retail Brochure
Page 1
RetailThe Leader in Providing Elevator Consulting Solutions.
Page 2
Extensive Experience in Retail • Optimal Escalator/Elevator Conguration• Green Technology with MRL's • High Volume Escalators • Performance Specications and Layout Drawings• Design Assistance for Custom Cabs Entrances and Fixtures • Budget Estimates• After Hours Project Consulting• Landlord/ Tenant Coordination• Loading Dock/ Truck Elevators• Theoretical Trac Analysis:• Pedestrian Flow AnalysisVertical Transportation for New Retail Buildings As one of the world's leading elevator consultants, vda® has the knowledge and experience to suit all of our clients needs.
Page 3
Unique Consulting for Elevators and Escalators • Evaluations for Alternative Solutions• ADA Compliance• Tracking and Performance Reports• Elevator and Escalator Maintenance Evalu-ations • Glass Hoistways and/or Open Hoistways• Customized Designs • Maximized Cab Space• Criss-Cross Escalator Alignment:• Aesthetically Pleasing • Manage Customer Trac• Easily Located • Designed to Accommodate Building Custom Solutions for Retail Spaces With our dedicated and experienced personnel, vda® has provided consulting services for nearly two-thousand retail related projects across the world.
Page 4
35+ Years of Experience 30,000+ Projects Since its founding in 1980, vda has developed extensive experience in Retail Related Projects and we are particularly sensitive to the dierent elevatoring needs of all management and consumers. We carefully consider the impact of the population and travel patterns, as well as existing or anticipated building conditions, in order to design ecient and cost eective elevator and escalator systems. vda® oers comprehensive elevator and escalator consulting services and unique solutions for the world's most iconic and challenging Retail Spaces.Recent Retail Projects and Clients: South Street Seaport, New York, NYRiverdale Crossing Shopping Center, Bronx NYVictoria's Secret (Various Locations)Nike (Various Locations)Trader Joe's Stores (Various Locations)Beverly Center, 8500 Beverly Blvd., Beverly Hill, CAEmpire Outlets, Harbor Commons, Staten Island, NYBurberry, Beverly Hills, CAWhole Foods Market, New York, NYMiami World Center, Miami, FLLa Torre de Plaza, San Juan, Puerto RicoGap, Old Navy & Banana Republic Stores (Various Locations)SHoP Architects, PCGreenbergFarrowLimited Brand, Inc. Nike, Inc.Trader Joe'sThe Taubman Company LLCBFC PartnersWatershed Partners, Inc.SBLM ArchitectsJPRA ArchitectsEmpressar FonalledasGap, Inc.Please visit our website for more informaon www.vdassoc.com